It took me a couple days past the end of my weekend to finish this iteration through the megadungeon.
This thing? It's big.
In total there are 107 nodes in this dungeon.  Many would be mapped as single rooms, most could easily be 3-5 rooms.  Many could be even more — the three 'caves' nodes in the Pit of the Misshapen could easily, easily be a dozen 'rooms' each, and many of the nodes in Aristothanes' Sanctum and the Fane of Baalshamoth could be as well.
I have put about 28 hours' work into this so far, somewhat less than a week's work.  For a first iteration I think this is pretty usable.  Next steps might include:
Creating encounter lists for each region, identifying likely creatures and events that could be expected to come up in play.  First pass would be a list of creatures and events, second might place them into specific nodes and/or wandering monster tables.  For instance, in Clockwork Hell you might find dwarves almost anywhere (random encounter) but there will almost always be dwarves found in the 'Dwarven Crafters' node near the 'Repair Bay'.
Polishing this model.  Some of the nodes can be collapsed and merged, some of the relationships are a little dodgy in retrospect.
Creating a nicer map.  GraphViz is a great tool for initial layout so I can see the relationships between the nodes, but they are not all arranged the way I would like to see them.  For example, the Dwarven Safehold and the Fungoid Cavern should be 'more horizontal', the Wolf Den should 'surround' the Goblin Warren, and so on).  If I were rendering this for publication I would try to make each region more representative of its actual shape, and possibly construction.  I think creating a map in the fashion I would like to see it requires artistic chops I simply haven't developed.

For example, Gus at Dungeon of Signs felt inspired to draw a 'megadungeon tourist map' that tickles me something fierce.

Creating detailed maps for the regions, showing the actual physical connections between the nodes and the rooms (or whatever other subareas exist) within each node.
Notice that actually 'drawing a map' happens way, way down the list of things to be done.
The sheer number of nodes here, and trying to keep nodes from individual regions close together, put some significant limitations on the automatic layout tool.  The image produced is some 2951 wide by 4067 tall.
I do want to create an entity definition for the megadungeon as a whole, summarizing what it's about and what attraction it may have for adventurers.  Perhaps I'll do that tomorrow night.
Complete List of Regions
From the top, the regions in this megadungeon are:
The original megadungeon started as the high-level graph showing the regions (immediately below), but grew to become somewhat more complex (bottom of the page).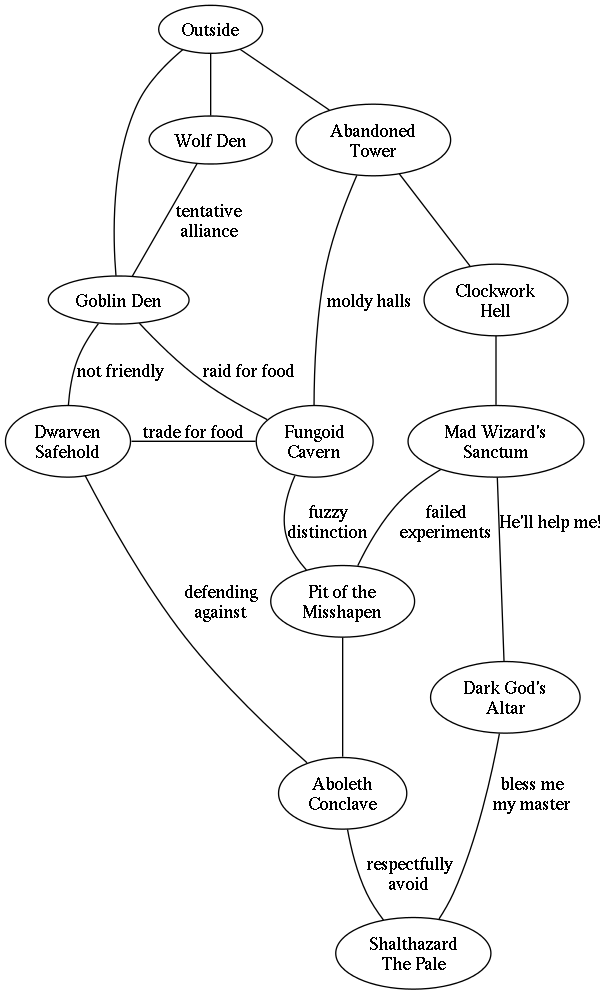 Packaging as a Single Document
I've been asked if I'll package this series as a PDF, possibly polish it and put it up for sale.  I'm still considering it — and if you want to sway my decision, let me know what you think about the idea.
Before I decide, though, I'm taking a few days away from this.  I need a break.