Dungeons & Dragons has long had the concept of alignment, though the definition has changed over time. This post will explore some of the options available to me, looking for a best fit for my Seekers of Lore campaign.
Nine-Fold Alignment Model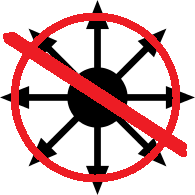 My background is primarily with Dungeons & Dragons 3.x and Pathfinder, and Advanced Dungeons & Dragons before that (and before that, Mentzer B/X). I've worked with the Nine-Fold Alignment Model for somewhat more than twenty-five years, in each of its iterations, from the "comply or else" of AD&D through D&D 3.x and Pathfinder's "purely descriptive" model (which, of the two, I prefer).
Seekers of Lore, though, isn't about heroes, but about finding what has been lost, recovering it, and making use of it. Yes, there will be good guys and bad guys (Indiana Jones might be Good and René Emile Belloq is Neutral, say, and the Nazis Evil) but that isn't the focus of the game. It likely affects (or more accurately in the D&D 3.x model, is derived from) the goals of each character, and the means they are willing to use to achieve them, but I think is not a good fit for the style of campaign I'm planning.
Mechanical Considerations
Depending on the edition, the Nine-Fold Alignment Model can have various mechanical considerations… but they generally aren't very interesting ones. Some characters can be penalized or lose access to their class abilities if they do not conform to certain behaviors. From the Pathfinder Reference Document core classes alone:
a paladin who ceases to be Lawful Good or performs evil acts lose all paladin spells and class features and cannot progress further as a paladin;
a monk who becomes nonlawful cannot gain new levels as a monk; and
a barbarian who becomes lawful loses the ability to rage and cannot gain new levels as a barbarian.
Clerics also turn (if Good) or rebuke/control (if Evil) undead, with Neutral clerics choosing one or the other at character creation. Kind of boring, really.
Also, spell casters can only cast spells with alignment descriptors if their alignment matches. Many of these spells exist in flavors for each alignment axis and orientation (Law, Good, Chaos, Evil) but tend to be pretty much the same, basically "bonus for my team and/or penalty for the other team, with bystanders either helped a little or hurt a little, or ignored". Pretty boring stuff.
There is a semi-mechanical element in that Lawful Good characters are generally expected to cooperate with each other, Good characters with other Good characters (though they can differ in preferred strategies), Lawful characters with other Lawful characters (unless there is a Good-Evil conflict… but sometimes even then), and…
Bah.
Three-Fold Alignment Model
The classic, pre-Advanced Dungeons & Dragons alignment model actually could be considered a better fit. Leave aside questions of good and evil as irrelevant, the campaign focuses on finding what was lost and restoring it to order. Go into the crazy (chaotic) places, recover the lost knowledge and artifacts; reestablish veneration of a lost god; or recapture a lost fortress, then settle and civilize the region around and make it safe… these all would be suitable activities for Lawful characters, and those who would try to prevent this could be Chaotic.
Or unaligned, just trying to live their days out in safety from marauding dangers such as wild beasts and… Lawful adventurers.
And what if the folk discovered by the adventurers are doing the same thing? Building out from a central authority, exploring and pacifying the land, doing exactly the same thing as the player characters, just headed in a different direction? Do they team up, since they clearly have similar goals? Do they oppose each other, since they each want what the other has? Neither of these suits me, so perhaps something else?
Eh, too hard. Superficially this could be a good fit, but I want something better. I'll keep this as a fallback plan.
Mechanical Considerations
Not many, even less than for the Nine-Fold Alignment Model. Depending on edition Chaotic clerics may (or tend to) use the reverse forms of some spells, and they rebuke (control) undead rather than turning or destroying them. There are no core classes in B/X that have any alignment requirements, though BECMI added some higher-level classes (paladin and avenger, the druid, and as I recall, the mystic) that have some alignment leanings and requirements. However, overall there is little mechanical effect, and it's basically a team jersey for all the roleplaying impact it has.
Allegiance
Both FantasyCraft and d20 Modern have the concept of almost arbitrary alignment. In FantasyCraft this is still called 'alignment', since you are aligning your goals and activities with a greater power, in d20 Modern this is called 'allegiance'. I'll use the d20 Modern term here to differentiate it from the alignments described above, and (since I'm working from memory; all my relevant books are currently in boxes in the garage because we're moving in a few weeks) I'll blend them together a bit.
A character may have an allegiance to a powerful figure. Despite my use of the expression 'greater power' this is not necessarily a god, even a small one, but may be a powerful figure in the world (something similar to 13th Age's Icons, even). This gives the character goals (in support of the liege power) and obligations (to the liege power), but also benefits (from the liege power; allegiance is a two-way exchange). These can vary from relationship to relationship. It also gives the character built-in opponents.
Mechanical Considerations
Perhaps surprisingly, this model actually lends itself well to improving some mechanics, and using others.
First, many people are unaligned. This fits the Seekers of Lore campaign quite well — most non-adventurers just go about their daily business, obeying the rules as needed but investing no particular effort on the behalf of, or gaining reward from, those more powerful than them. Similarly, most animals and other creatures are unaligned.
Second, it is quite easy to pick sides. I think Belgarath put it best:
"I like nice, simple situations and nice, easy solutions," said Belgarath.

"Good and Evil?" Durnik suggested.

"That's a difficult one, Durnik. I prefer 'them and us.' That clears away all the excess baggage and allows you to get right down to cases."
"Them and us" works pretty well for me. I can get rid of the distinction between 'divine' and 'profane' bonuses. If someone shares allegiance with you he counts as 'good', and if has allegiance with your enemies he is 'evil'. It's also easy to include 'allies' in this (your liege's allies, or even your own… or on the other side, the allies of your enemy's liege, or your enemy's allies). Everyone and everything else is unaligned and can be considered 'neutral'.
This does mean both sides in an encounter might cast exactly the same spell for contrary effect (i.e. "who gets affected and how" changes), and that's fine.
Third, this gets rid of a lot of debate about 'alignment definitions'. 'Good' and 'Evil' (and even more, 'Lawful' and 'Chaotic') can be very difficult to reach consensus on; just about every group I have played in over the last thirty years has at some point or another ended up debating it. It drops the idea of abstract alignment entirely. Some lieges (and their vassals) will have commendable goals, others won't, and the definition of 'commendable' can vary by observer… fairly simply and without much ambiguity.
Fourth, by making the relationships explicit, it becomes easily possible to attach other mechanical effects to them. By meeting the obligations of your allegiance (from either end, as vassal or as liege) you can gain certain benefits. The obligations can be similarly explicit.
A god grants access to spell casting, domain powers, and other abilities in exchange for proper service (worship, if appropriate, evangelism, quests, and other service); in exchange the influence of the god spreads and more disciples are found to serve. A king grants you land and stands behind you, lending you the weight of his law, in exchange for your meeting your feudal obligations and working toward his best interests; in exchange he can better rule his kingdom. A mercenary company backs you, providing you training and a safe place to live; in exchange it gains a reliable soldier and field agent.
Aspects
A further consideration, mechanically, is that this model lends itself remarkably well to adopting Fate 'Aspects'. The abstract alignments, not so much, but this model has clear guidelines as to when each allegiance applies and what it might mean. Each form of allegiance likely has positive and negative elements to it, and can be used to predict what a character might do (be invoked or compelled for effect). Any allegiance this does not apply to should probably be carefully examined.
This is also true for the other alignment models, but being abstract it is somewhat harder to apply them in this fashion. 'Lawful' is a little hard to nail down; 'Sworn Defender of the Nine Swords' (allegiance to a particular group, probably something martial or royal) is specific enough to be usable.
Closing Comments
I'm definitely leaning toward the 'Allegiance' model. It gets me away from abstractions I honestly don't really care about for this campaign, while leaving room for me to incorporate relevant bits. I like that while there are groups that are considered 'generally commendable' or 'generally despicable' they can each have contrary elements to them without distracting from their primary 'alignment'. This can be done with the abstract alignment model but often runs into difficulty because the contrary elements tend to distract people.
That is, a group that does mostly commendable things but has a few shady dealings isn't "mostly good, but leaning toward neutral" (as might be seen in D&D 3.x). You might say instead "we like them, except for this", or "they're a hindrance that is too inconvenient to destroy so we'll work around them… and might be able to subvert them to our cause, add that to the 'long plan'".
Explicitly declaring sides, without abstraction, makes it much easier to adjudicate, and 'easy to adjudicate' is something I look for.
I suppose I'll have to delve into specific examples another time….