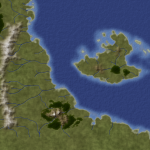 I'm feeling a lot like not wanting to write today, but have generally been good about writing regularly (a post every day for more than five weeks).  Instead I thought I'd do something different, practice a bit of map drawing.
It's been a while, I'm relearning techniques I haven't practiced in over a year, so things aren't quite as polished as I'd like.  Ah well, this just means I'll get better, yeah?
Case in point, my 'rivers to nowhere' at the bottom of the map — I forgot to scroll the silly thing when drawing the rivers and they just end.  River police are gonna get me….
Who knows, I might do these irregularly, I may decide to start a regular feature where I draw a picture of a place that doesn't exist.