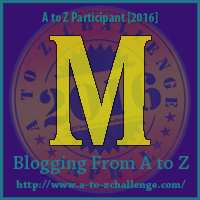 I thought I'd take a few minutes and do a quick summary of where I stand with this year's A-Z Challenge.
The big topic this time around is graded items, special items with abilities of various grades or degrees of power or utility. I've got a few posts about encounter design that I expect I'll expand on another time, and mention a couple of books of sorcerer bloodlines (one published, one not yet written).
Given how much I've written so far about graded items, I expect that'll be my next book. Get the rules together and cleaned up, write up a few dozen examples, and it should be good to go. Perhaps I'll write about that for… well, whatever day I find a good letter to assign to, I suppose.
(The dates will generally disagree with when the blog says I posted them. For this exercise I'm publishing at 9:00 PM Pacific time the day before — partly so it's at midnight Eastern time, but mostly because I'm up before 5:00 AM the next morning to go to work and I like to post the links to my social media before I sleep.)