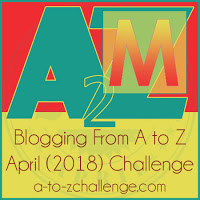 As usual during the A-Z Blog Challenge, here is my midpoint check-in.
I've been late a couple of times, usually as the weekend approaches. I kind of expect that, partly because I get tired toward the end of the work week and partly because I have to be up at stupid o'clock to go the city for work by silly o'clock on Fridays (and Tuesdays, but I can usually buffer one or two posts over the weekend… not this time), and partly because Fridays are often Game Night in the city and I get home late.
No matter, I'm having a good time, and if I'm a little late on occasion I'm okay with that.
* These posts are at least one day late.
Well, this is a bit of surprise. I usually have at least half again, sometimes twice as many words at this point in the Challenge. No matter, I like what I'm writing and I'm told I'm a long-winded kind of person sometimes.
… so I suppose I'll stop here.